When we bought our house in 2014, I was overwhelmed with the amount of time and money it was going to take to furnish our newly acquired 3,100 square feet. Before I started on the decor, I had the entire downstairs painted to fit my neutral color palette taste (I was not a fan of the red kitchen, purple living room, and green dining room). Once the paint dried I started work on our formal dining room. While it still needs a few more pieces to be completely finished, I'm happy with the progress so far. When starting with nothing, putting together a room can get very expensive and overwhelming. I spent hours on Pinterest, Houzzz, and home-furnishing websites (my favorites being West Elm, Crate & Barrel, Pottery Barn, World Market, and Marshalls/TJMaxx/Home Goods). I decided on what pieces were worth the investment and which ones were okay with the inexpensive versions. I wish I had a better "Before" picture (this was from the realtor listing – it was from the previous owners but gives you an idea of the paint color and light fixture I started with)…
But I'm very pleased with the "After"…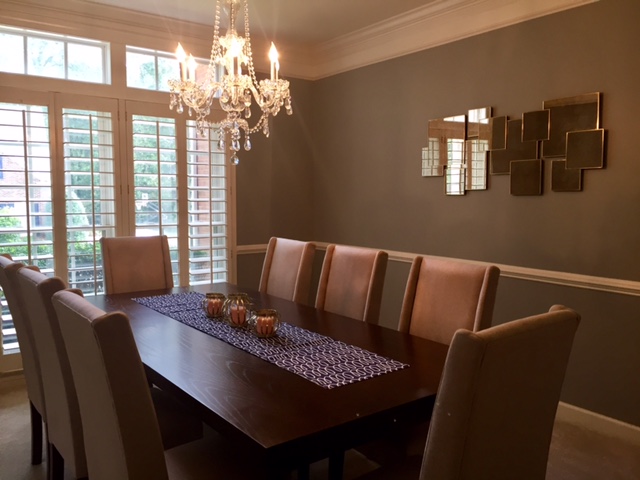 Paint Color – Sherwin Williams SW7650 Ellie Gray – Information HERE
Picking the paint color was easy… because I had help.  One of our friends told us about an in-home color consultant service Sherwin Williams offers and I loved the idea. You call your local Sherwin Williams store and schedule a 90-minute visit with one of their consultants.  It costs $95 but after the session you receive a $50 Sherwin Williams gift card to use on their paint; bringing the consulting service down to $45 (well worth the price considering picking out paint colors is very difficult if you've never done it before). Since I knew I would use the $50 gift card to buy Sherwin Williams paint anyway, that was an easy decision.  The lady came to our house and spent over an hour with me picking out the different colors to use in each room so they were complimentary and worked with the current lighting, floors, cabinets, etc.  She was very informative and by the end of the session we had a color palette for our entire house! You can find additional information about the service HERE.
West Elm Angled-Leg Expandable Dining Table – Purchase HERE
I probably spent the most time looking for this table.  It is the largest piece in the room and I wanted to make sure it was exactly what I wanted to make shopping for the rest of the room easier. I looked EVERYWHERE for my perfect table.  I looked at price and style, but also had an image in my head of exactly what I wanted.  I wanted one that was expandable so I had the option to sit up to 8-10 people.  I also wanted one that wasn't too modern or too traditional; I like clean lines and simple.  At $699 I thought it was a great price but I also used a 15% off coupon which helped with the cost of tax and delivery.
Target Charlie Modern Wingback Dining Chair in Beige (Set of 2) – Purchase HERE
When I found the dining table at West Elm, I fell in love with how they styled the room around it.  I loved the look they did below, but purchasing these chairs was going to cost more than not only the table, but the entire room!  I wanted to have seating for 8 and I wanted the leather version of the chairs for durabilty purposes so that put the price tag of 8 chairs at $3200 (they are sold for $398 for a set of 2).  I do have to note that I've seen these chairs in store and they are much nicer than the ones I've bought, but for the price I couldn't justify the purchase.  I ended up finding VERY similar chairs at Target for MUCH cheaper.  A set of 2 of the Charlie Modern Wingback Chair is only $199 and Target is always having sales on top of that incredible price. If you use the Target REDCard you get an additional 5% off your purchase making them an even better deal!  Target also offers free shipping on orders of $25+ and free returns to stores.
Home Depot Hampton Bay Crystal Chandelier – Purchase HERE
I knew the light was going to make a huge difference to the look of the room.  I wish I could tell you I put a lot of thought into it, but this was probably the easiest purchase I made.  Long story short… I was looking at getting a very simple pendent light, nothing fancy.  I took my sisters and nieces to Home Depot to show them one similar I saw at Crate & Barrel and my 4 year old niece saw the crystal chandelier and said "get that one".  We laughed at first but then actually took her seriously.  I never considered a crystal chandelier because I didn't think it fit with the decor I was going for, but it has ended up being one of my favorite pieces in the room!  The price was $199, which after looking at others I found to be a very good deal, but I was also able to get an additional 10% off.  I had a Lowe's 10% off moving coupon and since Home Depot accepts competitor's coupons, I was able to save an additional $20 and got it for $180+ tax.
West Elm Overlapping Square Mirrors – Purchase HERE
I've been looking at this mirror for over a year now, but at $399 I couldn't justify the purchase.  I shop at Home Goods weekly and saw mirrors in the $100-$200 range that I thought were okay, but never saw one I liked as much as this one.  West Elm had a one-day flash sale a few weeks ago and this mirror was marked down to $199 just for the day.  It was still a little more than I wanted to spend for a wall piece, but I took a chance and purchased it anyway. I knew I would regret not getting it and figured it was worth spending a little bit more to get exactly what I wanted.  BONUS… it was VERY easy to hang with the hardware they provided!
Kate Spade "In the Loop French" Table Runner – Purchase HERE
I wanted something very simple for the centerpiece.  I don't like unneccessary decor, but I needed something to soften the giant brown table in the middle of the room.  I also wanted something that could be used year round. When I found this Kate Spade table runner at Home Goods for $14.99 (it's also available on Amazon), I knew it was a good place to start. I loved the color and print… and it's also reversible!
Anthropologie Banded Lanterns  – Purchase HERE
I had the same thought with these lanterns as I did with the table runner when I saw them. They were simple, functional, and could be used year round so I thought they were perfect.  I purchased 3 of them when Anthropologie was offering an additional 40% sale items, so my total cost was less than $25.  Anthropologie can be pricey, but their quality and decor is great, so I was very pleased when I found these treasures.
World Market Peruvian White Tuberose Pillar Candle (I got the 3×3 size) – Purchase HERE
These candles are the perfect size for the lanterns I purchased.  I'm using the light pink ones right now but i'll probably buy different colors for the different seasons.  They also smell fabulous!
Michael's Champagne Gallery Float Wall Frames (I got one 11 x 14 matted to 8 x 10 and two 10 x 16 matted to 5 x 7)- Purchase HERE
I loved these frames!  The champagne color goes perfectly with both brushed nickel and antique brass (both of which I have in my house).  Plus, Michael's frames are very reasonably priced and they are always having sales and coupons.  I got the 11×14 frame for $10 and the 10×16 frame for $12!  Regularly $24.99 and $29.99, they were 50% off ($12.49 and $14.99) and I had a coupon for an additional 20% off my purchase!   You can find Michael's coupons directly on their website HERE.
Frontgate Freestanding Mesh Pet Gate – Purchase HERE
I actually bought 2 of these pet gates before we moved in because I have 2 long-haired Chihuahuas and didn't want them to escape out the front door. When we lived in our apartment I always used the plastic baby gates to block off the dogs, but I didn't like the look of them and hated that they had to be connected to the wall. The opening to the dining room is very wide and it would be hard to find something that blocked off the entire space.  The gate fits the functionality I was looking for without having to ruin the freshly painted walls.
It took about a year to put the dining room together this far, but I'm really happy with the results!  It is the first room I've put together from scratch and loved the process.  I have so much fun walking around Home Goods on the weekend trying to find pieces to complete the room.  Right now, I've moved on to our Home Office and I'm excited with how it is progressing. Once I have that room finished I'll post the final result!
0