I never thought I would love a hair dryer so much. With a $400 price tag, the Dyson Supersonic Hair Dryer is definitely an investment piece, but if you blow dry your hair daily like myself, I think it is worth every penny. I already had a reliable hair dryer when the Dyson came out, so I didn't think it would make that big of a difference. I also have a go-to straightening iron that I thought made more of a difference than any hair dryer would.
Fortunately a very kind person bought the Dyson Hair Dryer for me as a gift! The combination of the Dyson Hair Dryer and my BaBylissPro Nano Titanium Straightening Iron not only made my hair smoother, but cut down my drying & straightening time to less than 20 minutes. I still get my hair cut every 8-10 weeks, but it looks healthier and I see fewer split ends.  While I recommend purchasing the Dyson Hair Dryer, I would suggest waiting until you need a new one. If you are currently happy with the hair dryer you have, I don't think it is worth spending the $400 until it is a necessity.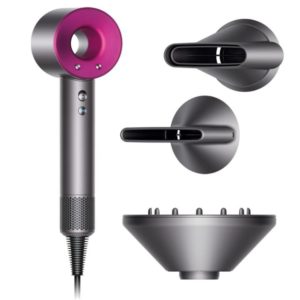 Where to Purchase: Dyson, Neiman Marcus, Saks Fifth Avenue, Nordstrom, Ulta
Price: $399.99
The reason I posted several websites to purchase the hair dryer is because it rarely (if ever) goes on sale. If you are unable to get it at a discount, if you are a rewards member or if you can get bonus points through shopping at any of these stores, you'll want to purchase through that specific store.
Items I recommend using along with:
BaBylissPro Nano Titanium Straightening Iron (read my review here)
Aveda smooth infusion™ style-prep smoother™
The 3 reasons why I chose the Dyson Supersonic Hair Dryer:
It dries my hair smoother.
I admire hair stylists and anyone who can get frizzy/wavy hair straight by using only a round brush and blow dryer. While I've attempted it and think I could improve if I really tried, I do not have the patience to section off my hair every night and blow dry using a round brush. Instead I use a paddle brush and try to do it as quickly as possible.  I even flip my hair over and brush down to get it to dry faster. With the Dyson, my hair isn't flying all over the place once I'm finished.
It is lightweight and quiet.
Although I liked my last hair dryer, it was very heavy and bulky. I couldn't hold it over my head too long without my arm hurting. The Dyson is very comfortable to hold for the time it takes to dry my hair and it is a lot less noisy than any other hair dryer I've used in the past.
It dries my hair faster.
The Dyson not only dries my hair faster, but because it is smoother once dried, it also cuts down on the time it takes me to flat iron. That's the biggest difference.
2