Shopping List
2 lb. Beef Stew Tips
1 bag of shredded Carrots (I get the bag at Trader Joe's)
1 bag of shredded green Cabbage (I get the bag at Trader Joe's)
3 cups of chopped Celery
1 can (14.5 oz) of diced Tomatoes
1 large can (46 oz) of Tomato Juice
1 quart of Beef Broth (I get Trader Joe's Organic Beef Broth)
Camp Mix Seasoning (to taste)
Instructions:
Fill stock pot with about 70% water and bring to boil
Once boiling, add Beef Stew Tips and cover, stirring occasionally until it comes to a boil again
Once it's boiling again, leave the lid on and turn the heat down to low/med-low to simmer for 3 hours (this will keep the water moving but not enough to make it boil over)
After 3 hours, pour out most of the excess water, leaving enough water to just cover the cooked beef
Add Beef Broth, Tomato Juice, Carrots, Celery, and diced Tomatoes to the pot and bring back to a boil.  Let simmer for 10 minutes
Add green Cabbage and let simmer for another 7-10 minutes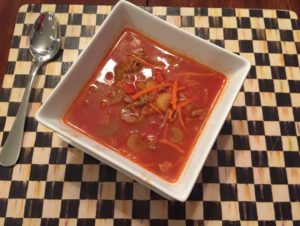 This recipe makes enough soup for several leftover meals!  My husband and I make it for dinner the first night (usually Sundays) and then put the leftovers in individual glass serving dishes. We use the ones found HERE.  These are great because they have lids to store and they are microwave safe. It's easy to grab one out of the refrigerator, heat it up, and then eat right from the dish!
0