I have searched several years for the most comfortable travel shoe for walking and exploring. Nine trips to Disney World, a week walking around Italy, and another 10 days exploring London & Paris, have given me plenty of opportunity to narrow down my search. Several wasted dollars on failed shoes has taught me a lot. #1: It is worth spending more if it means you are getting a better shoe. I finally gave in and spent the money on the shoe I knew would protect my feet after the hours and miles of walking all day. It is also worth noting that they both fit true to size and neither of these shoes rubbed the back of my heel or caused blisters (another issue I experienced in the past).
Below are my top picks for comfortable travel shoes and the socks I wore with them.
Nike Free 3.0 Flyknit Running Shoe – Purchase Here
I actually own 2 pairs of this exact shoe – the black pictured above and a white/light grey pair. I run on the treadmill 4-5 times a week and these are my go-to workout shoes as well.  The first time I wore these shoes on a walking vacation was when we explored Italy last year. I probably spent a good 2-3 months looking for a shoe that I thought would protect my feet AND look cute with all my outfits (I was only packing a carry-on for the trip, so I settled on the black pair since they go with pretty much everything).  These Nikes did not disappoint, which is why they ended up as one of my top picks for comfortable travel shoes.  I walked around the cobblestone streets of Rome & Florence and explored the canals of Venice without my feet or back ever feeling the aftermath.  I found the perfect pair of socks to wear with these, you can purchase here. I liked them because you could only see the very top of the sock, they were snug around the ankle, and never fell into the shoe. I think that was a big reason I avoided blisters on the back of my heel while wearing these shoes.
Adidas NEO Lite Racer Slip On – Purchase Here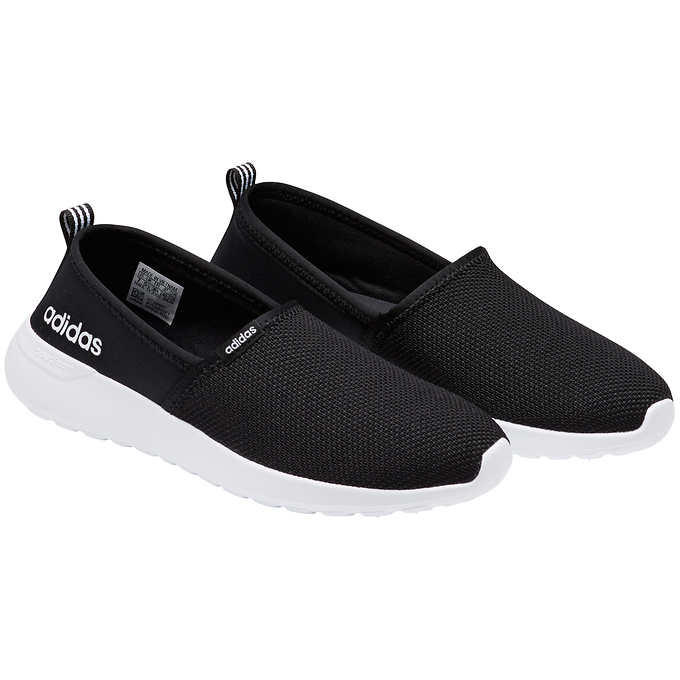 I first saw these shoes when my mom sent me a picture of a Costco ad. If I remember correctly, the ad referenced walking on a cloud, and I can vouch that these shoes really are like walking on a cloud. She sent me the ad because I had just booked a trip to London & Paris and knew I was looking for a great pair of travel shoes.  I had worn the Nike Frees to Italy the previous Fall, but since I was wearing shorts on this trip I wanted a slip on shoe instead.  I ended up buying a pair at Costco (which as of this post were sold out… but if they are ever back in stock they are a steal at $24.99) but I honestly would buy another pair for the price they are selling on Amazon. Another huge perk is that these shoes are washable.  They were filthy after my Europe trip, but running them through the washer on a delicate cycle (and then letting them air dry) made them look brand new! You can purchase the socks I wore with these shoes here. I liked this particular pair because they stayed on my foot without slipping and prevented my feet from getting sweaty. Make sure you put them on your feet evenly because they did rub my lower big toe if they were off even a little bit.
There you have it! Hopefully my top picks for comfortable travel shoes help simplify your search the next time you need a new pair of comfortable travel, or just walking/everyday, shoes.
0